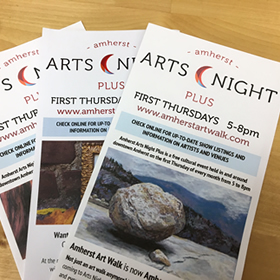 NEWSLETTER
Sign up for the Arts Night Plus Newsletter for monthly updates! Each first Thursday of every month, from 5-8pm, participating venues host gallery openings, concerts, lectures, and other creative events. Get the details in your inbox every month!

Call to Artists: Artist's Studio Supply & Surplus Sale
Sunday, June 23rd, 11am-3pm

Amherst Arts Night Plus and the Amherst Center Cultural District are hosting an Artist's Studio Supply & Surplus Sale at the Knights of Columbus Hall (47 Boltwood Walk). Local artists have been invited to clear out their studios and will be selling, trading, or swapping supplies and materials that they no longer use or need. Some items offered for free! Potential items may include canvases, fiber, fabric, paints, frames, easels, beads, and tools. Artists may also sell seconds or discontinued art.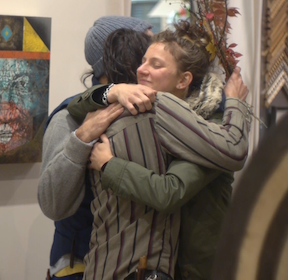 JOIN US
Do you want to be part of a growing, innovative group of creative people in Amherst? Joining Amherst Arts Night Plus will allow you to make connections with local business owners and artists, strengthening the arts community in the Amherst area. Become a participating venue!